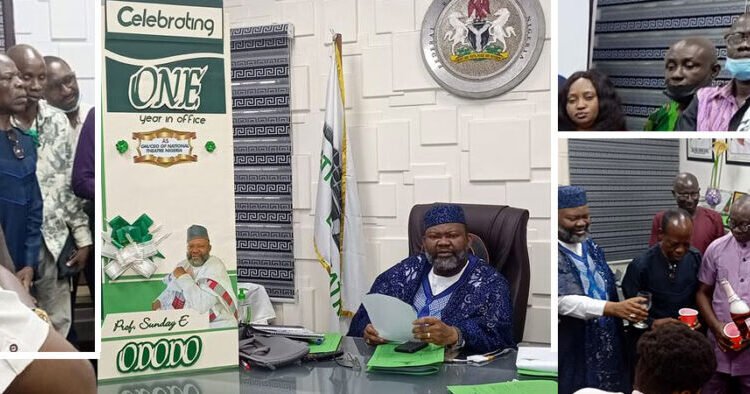 As Prof. Sunday Enessi Ododo, fsonta, FNAL marks one year in office as GM/CEO of the agency, the Management and Staff of National Theatre organized a surprise mini party for him. The event which took place in his office was at the instance of Mr. Abe Biodun, Director Production and Technical Theatre Services, National Theatre. In attendance were Directors, representatives of the labour Unions, staff and the security.
The GM/CEO who has attracted commendations for the many 'firsts' he has achieved in his short time in office which includes a 14% increase in the Revenue of the National Theatre – when compared to the 2 previous years before he took over – despite the ongoing revamping which has reduced available facilities and the COVID-19, is also praised as a peace maker for the industrial harmony he is pursing in the National Theatre.
Prof. Sunday E. Ododo, fsonta, FNAL, praised the staff and Management team for keying into his vision for the agency and said all that he is being praised for are the achievements of the staff who are the most critical players in the service delivery chain of the National Theatre. He reiterated that no one is useless and he is ready to work with everyone who has the best interests of the National Theatre at heart.
Photo speaks